Pricing
The Perfect Closing Gift
BizBoxes are personalized moving boxes complete with your name, logo, and business information. The BizBox™ is the perfect closing gift for Real Estate Agents to give to their clients to show their appreciation.
They are bright, beautiful, and professionally done, and that's what makes them great gifts because they promote you to all of your client's friends and family on moving day. No other closing gift can promote you the way the BizBox can.
Fully Customizable
BizBoxes are fully customizable so you can design them almost anyway you want.

You have two sides to a

dd your contact info, photo, logo or anything else. Additionally we even have some professionally designed templates you can use!
Two Different Sizes
BizBoxes come in two different sizes - medium (18x15x14) and small (16x12x12), but both sizes are absolutely essential for every move.
Small (16x12x12) BizBox Packages
Our Small BizBox packages (16x12x12) contain your choice of 10, 20, or 30 BizBoxes or a combination small and medium Bundle.

Medium (18x15x14) BizBox Packages
Our Medium BizBox packages (18x15x14) contain your choice of 5, 10, 20,or 30 BizBoxes with a variety of supplies. All packages include - Tape, Clam Dispenser, Bubble Wrap, and 2 sets of dividers to protect Glasses and Dishes, and a Marker.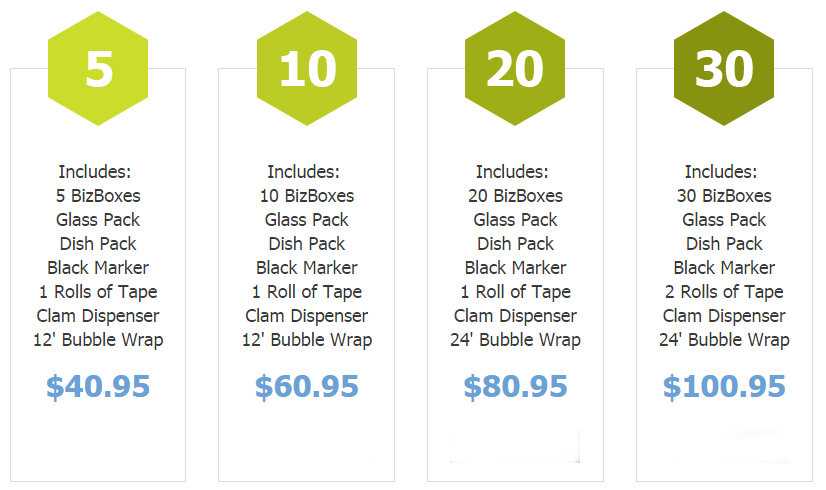 We take care of everything
You're too busy selling Real Estate to be in the box business, and because we specialize in the Real Estate Industry we've made ordering a BizBox™ package easier than ordering a pizza. Just a short toll-free call or a few clicks on the web.
There's no inventory of boxes to handle, just choose your package and they're off! Plus Fed Ex Ground delivers your BizBoxes™ directly to your client!
"The quality of your BizBox is "First Class" and I would recommend the BizBox Program to any Realtor in the residential market. This is a wonderful source for referrals, in addition to offering a practical and affordable means of thanking clients for their loyalty. If you haven't tried this marketing program, you need to!"
Martha Hendrick
Howard Brinton Star of the Month, October 2000