This one Strategy can Save 50% or more off your BizBox Package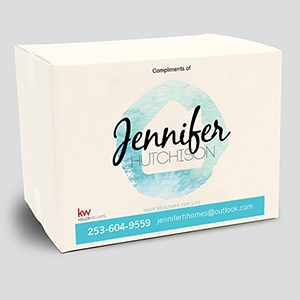 BizBox is a great closing gift even at full price.
In fact, its the perfect closing gift because it actually makes you money.
Very few if any closing gifts are universally loved by your clients, and help promote you the way the BizBox can.
BizBoxes are like mini-billboards for your name, business info, and photo.
So friends and family who are helping your clients move can't help but be impressed with your service and professionalism.
Your clients (who are already begging for boxes) will be thanking you, AND showing off your name on moving day!
---
"Biz Boxes are a great "ah ha" item ... I don't know why all real estate agents aren't using them, and one of the best benefits is that my clients tell their friends how great it was that we sent them the boxes. Great public relations!"
Robert Gordon - RE/MAX CENTER REALTORS
---
All of this, for around $3 per BizBox.
That being said - there is one strategy that can cut the price in half.
That strategy is Co-Branding your BizBoxes.
One of the unique things about being a REALTOR is you are the gateway to so many other services. Mortgages, inspections, repair work, and title work are just a few.
The most obvious co-branding partner is your loan officer.
By teaming up with your loan officer you have just saved 50%.
And there are three options when co-branding your BizBox.
First, you can each take a side.
Automatically included are two sides so this allows both you and your loan officer to get a full 16x14 side.
You can see an example of this below.

A second option is to share both sides. Share vertically - share horizontally, either way is fine. But the important thing is both you and your co-brand partner get two sides.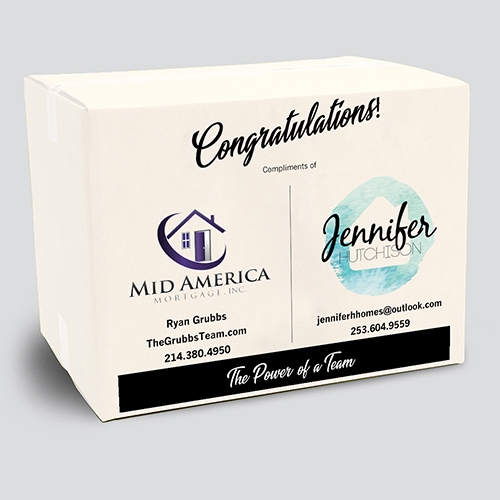 The final co-branding option is both you and your co-brand partner each get two sides. For just the cost of ink (about an extra 10%) you can have two sides of the BizBox and your loan officer can have two sides.
What an incredible deal!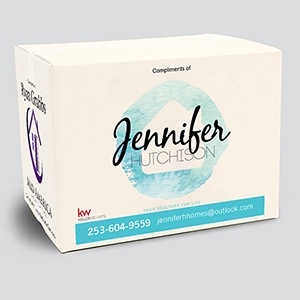 And if you want to really get creative add some other vendors to the top of the BizBox and you can save even more.
There is no way to lose on this deal – you've got the perfect closing gift at the perfect price, and found a great source for referrals and a way to stay top of mind to your clients.
Get started now with our Quickst-Art program. Complete the short form and we do all the work – Fast, Free, and with no Obligation.